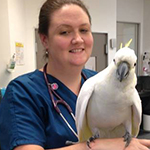 Dr Kaila began working with us before she had even graduated. Starting by working weekends as a nurse while studying at Gatton, she gradually became part of the family. When she graduated she left us for a year to study her internship at the Veterinary Specialist Services in Brisbane.
She has returned to us from there with a very keen interest in Ophthalmology. She is currently undertaking further study in Ophthalmology So as our resident "Eye expert" Kaila is probably the person you will see ("see" get it?) if your pets ever have troubles with their eyes.
You will often see Kaila accompanied at the clinic by Anoki, her cheeky Cavalier King Charles Spaniel who has a stomach that has often been referred to as a bottomless pit.