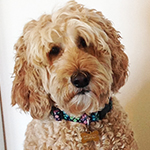 Fang is really the main person you need to know in the vet surgery. That's right, although she looks a lot like a labradoodle, she is convinced she is actually a person.
She is not always present as she has a busy schedule, including several days a week at Dog Safari. When she is in the clinic however, she is often far too busy supervising the treat jar to always be on show, but late afternoons she enjoys coming out to the reception area to  remind us that it is time for her treat and afternoon walk.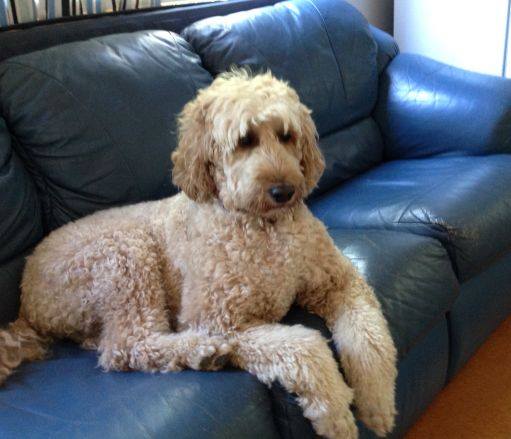 Born in 2007, Fang was destined to be a star. She has starred in many on stage performances. Locals will recall her in Neptune Theatre Company's productions taking on roles such as Caramel the Camel in South Pacific, Sandy the dog in Annie, another camel in Joseph and the Amazing Technicolour Dream Coat, and even a Salvation Army Officer in Guys and Dolls.
There have been a few other Cameo performances, where Fang has appeared just as herself due to popular demand.
Fang enjoys long walks on the beach (but things getting caught in the rain is a terrible thing). She will lie on her back and splay her legs in the most un-ladylike manner when she feels she is not getting enough attention, and stand on the scales to prove she has not eaten too many treats today ('so can I please have another one now?')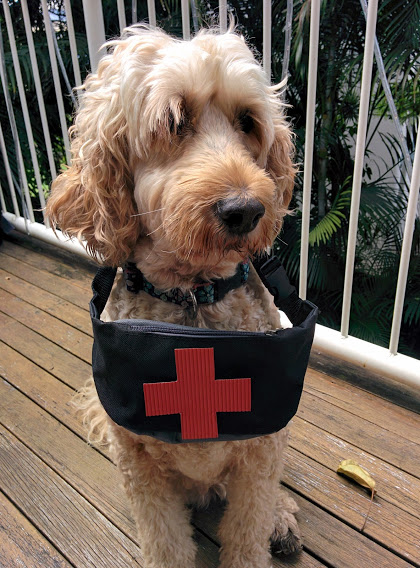 Fang initially came to this surgery as a puppy to be de-sexed and have corrective surgery on her eye-lids (which rolled in and were causing problems.) Dr Merridie did an excellent job of the surgery, but in the course of smooching the puppy after surgery discovered the pup had wrapped its furry little legs around her neck in a puppy hug and would not let go. Dr Merridie fell in love with the puppy, and knowing it was looking for a new owner, didn't send the puppy home.
Fang is so named because as that tiny mass of curly puppy soon proved, she had a very placid personality. She imitated a bath mat perfectly, and loved nothing more than sleeping while in someone's arms. Dr Sara felt that "Fang" might inspire some spunk or attitude into her, and give her a name to grow into. Despite many protests, "Fang" has stuck, although dismally failing to inspire Fang to anything like her namesake, she has proved a beautiful irony.
We love her to bits, and couldn't be prouder. Come in one afternoon and meet Fang, guardian of the Vet Surgery, and Chief Treat Taster. Or check her out on her Facebook page, Fangspage.