Veterinary Nurse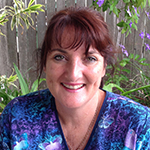 When Cath joined us we found ourselves with someone with a broad range of experience from many different parts of the veterinary industry. In particular, Cath has focussed on surgical and anaesthetic nursing. With Cath on the team you can feel confident your pet is in safe hands.
Cath says the best part about her job though is the time she gets to spend cuddling and reassuring our patients – making sure they are as comfortable as possible.
When not at work, Cath loves  spending time at the beach with her Golden Retriever, Chloe.