Veterinary Nurse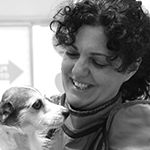 Daen is our wildlife warrior and in her spare time rescues, treats and rehabilitates flying foxes as a part of the Tweed Valley Wildlife Carers.
Daen enjoys working in our team at Tweed Coast Vet because she loves to interact and care for so many wonderful animals.
At home Daen has her own band of animals – Dogs Tiger the Staffy and Rusty the Koolie, Roasty and Bearnie the Roosters, Peach and Marley the Rats and Tim Tam the Spotted Python.
When she has time to relax she is spending time with her family and sitting down with a good book.