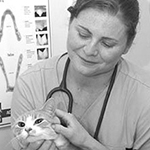 Role/Qualifications? Veterinary Surgeon.
Family?  I have one incredible husband and an endearingly gorgeous daughter.
Time in the industry? I have been working as a vet for 10 years, and have always been associated with (but not always working at) Tweed Coast Vet.
Special interests? I love ultrasound and surgery, and do as much as I can of both. I also maintain the website and admin side of the vet surgery.
Hobbies?  In my spare time I love to take my daughter bike riding and swimming.