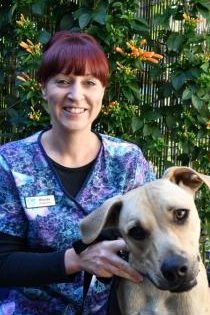 Roles: Reception and practice manager.
Pets: Sox A 3 year old cat who we adopted through Friends of the Pound. We also have a new addition, Baxter the 'bitser' dog, approx 2yrs old, who recently joined our family from AWLQ.
(Fun fact – When Sox was around 10 months old he was run over and we thought he would lose his back leg. However Merridie managed to put him back together and pin the leg, it healed beautifully and now you wouldn't know it had ever happened!)
Family: Husband, Steve, and twin 10 year old boys, Noah & Ethan.
Time in the industry: I worked at a clinic back in the UK before we moved to Australia in 2016. I have been working at Tweed Coast Vet since we arrived in April 2016!
Special interests: I enjoy all aspects of the clinic from helping clients and meeting their pets to seeing the interesting surgeries that go on. No two days are ever the same.
Hobbies: Horse riding although I don't get much time for that right now! Spending time with my family and friends. Can you class driving kids around to all their activities as a hobby?